St. John XXIII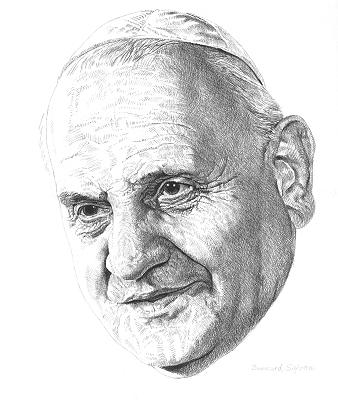 Servus servorum Dei; Servant of the servants of God. This was Pope John's preferred title.
Born Angelo Guiseppe Roncalli, the eldest son and one of thirteen children of a peasant farming family.
1885 – entered seminary at Bergamo. A scholarship from the Cerasoli Foundation (1901) enabled him to go on to the Apollinaris in Rome.
1904 – ordained as a priest, he continued his studies in canon law, he was appointed secretary to the new bishop of Bergamo, Giacomo Radini-Tedeschi. Angelo served this social-minded prelate for nine years, acquiring first-hand experience and a broad understanding of the problems of the working class. He also taught apologetics, church history, and patrology, (The study of the writings of the Fathers of the Church; Patristic Study). He served in the medical corps during WWI, helped Jews and other refugees during WWII.
1944 – appointed papal Nuncio to Paris.
1953 – he became cardinal-patriarch of Venice.
1958 – nearly 77 years old elected as Pope. Angelo Guiseppe Roncalli chose the name of John after John the Baptist and because it was his father's name, and the name of the church he was baptized in. In his first public address Pope John expressed his concern for reunion with separated Christians and for world peace. In his coronation address he asserted "vigorously and sincerely" that it was his intention to be a pastoral pope since "all other human gifts and accomplishments, learning, practical experience, diplomatic finesse can broaden and enrich pastoral work but they cannot replace it."
Pope John XXIII's pontificate lasted less than five years, but it presented him to the entire world as an authentic image of the Good Shepherd. Meek and gentle, enterprising and courageous, simple and active, he carried out the Christian duties of the corporal and spiritual works of mercy, visiting the imprisoned and the sick, welcoming those of every nation and faith, bestowing on all his caring fatherly love. His social magisterium in the Encyclicals Pacem in terris and Mater et Magistra was welcomed and deeply appreciated.
He summoned to meet the Roman Synod, established the Commission for the Revision of the Code of Canon Law and summoned the Second Vatican Council.
He was present as Bishop in his Diocese of Rome through his visitation of parishes. The faithful saw in him a reflection of the goodness of God and called him "the good Pope". He led a deeply prayerful life, which sustained him in spirit and mind. He initiated a sweeping renewal of the Church, while radiating the peace of one who always trusted in God. Asked by some Bishops what he would like to do after the council, John replied; "spend a day tilling the fields with my brothers". John had such warmth simplicity and charm, that he won the hearts of Catholics, Protestants and non Christians alike. To the world at large, John has given what neither science nor diplomat can provide a sense of its unity as the human family. That sense is at the core of our Lord Jesus Christ. Pope John XXIII died on the evening of 3 June 1963, in a spirit of profound trust in Jesus and of longing for his embrace.
On 27th of April 2014 he was Canonized by Pope Francis I
More Information on St. John XXIII